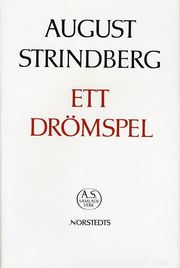 While reading Michael Meyer's biography of Strindberg I found this quotation from Strindberg's preface to A Dream Play. A very interesting and useful words if you want to understand Strindberg's theatre propositions and the acting technique developed from that theatre.
"In this dream play, the author has, as in his former dream play, To Damascus, attempted to imitate the inconsequent yet transparently logical shape of a dream. Everything can happen, everything is possible and probable. Time and place do not exist; on a significant bases of reality, the imagination spins, weaving new patterns; a mixture of memories, experiences, free fancies, incongruities and improvisations. The characters split, double, multiply, evaporate, condense, disperse, assemble. But one consciousness rules over them all, that of the dreamer; for him there are no secrets, no illogicalities, no scruple, no laws. He neither acquits nor condemns, but merely relates; and, just as a dream is more often painful than happy, so an undertone of melancholy and of pity for all mortal beings accompanies this flickering tale."
*
* Page 431. Strindberg, A Biography. By Michael Meyer. 1985. Random House. New York, USA.
Texts, photographs and videos in this Blog are all author's property, except when marked. All rights reserved by Gustavo Thomas. If you have any interest in using any text, photograph or video from this Blog, for commercial use or not, please contact Gustavo Thomas at gustavothomastheatre@gmail.com.